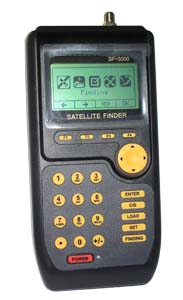 SF3000 Satellite Finder Meter
The SF3000 Satellite Finder is not a DIY meter. This is a full on industry installation meter. So if you want a real satellite meter without shelling out thousands, get the SF3000.
AZ, EL and PO are self-calculated for initial dish set-ups.
Measures digital satellite signal, bit error ratio and carrier noise ratio quickly and accurately.
It can store 80 groups of satellite parameters. Real time update satellite's parameters, the USB port can also be used for downloading parameters. The friendly graphic user interface makes operation easy. It comes with a CD with a Windows program for programming the meter, the CD has all of the NZ viewable satellites in it, with the transponders. Or if you are out in the field, you can manually enter new details into the meter via the buttons.
Features:
* -65dBm to -25dBm Signal level range
*4500-5500 and 9500-11500MHz L.O. frequency range
*Configurable Satellite Identification
*Supports 22kHz switching
*Findmaster PC software included
*LCD Backlight can be turned on and off
*8.4V NiMH Battery (5 hours use)
*Weight 0.8kg
*Audible Tone relays signal level
Printable e-brochure here...