The latest New Zealand DVBs, DVBt and PMP news!
January 2007
New Topfield PVR launched in New Zealand - Topfield TF6000PVR

This PVR incorporates all the PVR features of its award winning predecessor the Topfield TF5010PVR but in addition they have integrated an IEEE 802.11g WLAN and 160GB HDD for added storage. More here..
December 2006
DTT Trial Finished
TVNZ has announced that the DTT (digital terrestrial) trial in Auckland has now finished. They will launch a full FreeView DTT service in 2008.
February 2006
Topfield's latest receivers in New Zealand!
Topfield's latest FTA satellite and terrestrial receivers have arrived in New Zealand!

Topfield TF6000F - FTA digital satellite receiver. More here..

Topfield TF6000T - FTA digital terrestrial receiver. More here..
November 2005
Digital 'poses threat to TVNZ's survival'
24 November 2005
By ANNA CHALMERS
Television New Zealand and Maori Television face possible extinction if the Government does not step in and help free-to-air broadcasters move to a digital platform.
Briefing papers for Broadcasting Minister Steve Maharey warn that New Zealand "cannot avoid" engaging with digital technology, which has dramatically altered broadcasting overseas.
"The Government's policy stance on digital broadcasting will very probably determine if free-to-air television survives in the longer term," briefing papers prepared by Ministry of Culture and Heritage say.
Moves by Sky TV to buy Prime have further stirred concerns that TVNZ's market position is under threat.
If Sky's bid is successful the pay TV operator could block TVNZ's plans for a digital platform, which is currently backed by all free-to-air broadcasters, including Prime.
"If you stand back and look at trends relating to Sky, the outlook for TVNZ is quite worrying – far more so than who bought Judy Bailey's clothes," one analyst said.
Digital transmission enables better quality picture and sound, more channels, and interactive features such as viewers choosing camera angles. Pay TV operator Sky is the only New Zealand broadcaster offering digital transmission.
Briefing papers say the Government must make policy decisions by early 2006.
Key issues include:
* The type of digital platform to support – digital terrestrial, satellite or a mixture.
* Whether to subsidise broadcasters – digital set-up costs vary from $5 million to more than $20 million.
* The cost to consumers – at least $150 for set-top boxes needed to decode digital signals.
* Whether to set an analogue switch-off date, to speed up the process.
TVNZ has been trying to get a digital service off the ground for more than five years. Spokeswoman Megan Richards said TVNZ's latest digital proposal would be submitted to the Government before Christmas. It would include proposals for a digital platform and content.
Without the transmission upgrade – which is likened to the shift from cassettes to CDs – existing services are likely to fall over, Ministry of Culture and Heritage digital broadcasting director Jo Tyndall said in September.
Such technology is essential in the move to high-definition TV and personal video recorders, which enable viewers to "pause" live TV, fast-forward advertisements, and create instant replays. Sky plans to introduce these by December.
From: http://www.stuff.co.nz/stuff/0,2106,3489703a11275,00.html
November 2005
New satellite to watch

AMC 23 is due to be launched 172E in December 2005, with Cband and KU coverage of New Zealand.
More information is available at www.ses-americom.com
November 2005
Review of TF5000PVR

This month we found an interesting, though older, review of the TF5000PVR.
To read the article click here...
October 2005
TF5800PVR has achieved 5 stars

The UK's professional magazine on TVs, DVD & Digital recorders "What Video and Widescreen TV" has published their test report for TF5800PVR. TF5800PVR has acquired 5 stars as a test winner. Moreover, this report shows that TF5800PVR has is an impressive machine that combines superb picture quality with a vast choice of features.
The TF5010PVR is the New Zealand version of this receiver and the basic features are the same.
For more detailed information, please refer to the article here...
September 2005
TF5800PVR has achieved the grade "Gold".

The September issue of the UK's professional magazine "WHAT Satellite and DIGITAL TV" has undertaken a test. TF5800PVR has brought up the grade "Gold" with the best resulted mark (85%). This report shows TF5800PVR's key features in detail and also describes that this product is user-friendly.
The TF5010PVR is the New Zealand version of this receiver and the basic features are the same.
For more detailed information, please refer to the article here...
September 2005
Satellite News Service to the Pacific
From http://www.scoop.co.nz/stories/PA0509/S00380.htm
From Press Release: New Zealand Government
14 September 2005 Media Statement
$512,000 for news service to the Pacific
The Government will provide $512,000 for a satellite service to South Pacific television broadcasters, Broadcasting Minister Steve Maharey and Foreign Affairs Minister Phil Goff said today.
The service includes ONE news satellite broadcasts to the Cook Islands, Niue, Samoa and Tonga, as well a weekly half-hour programme of Tagata Pasifika.
"Funding of the news service will help strengthen the important linkages between New Zealand and Pacific Island communities," Steve Maharey said.
TVNZ has provided news to the Pacific for a number of years, but recent satellite service technical failures and reception problems have meant that TVNZ has had to consider other options for continuing its broadcasts to the Pacific.
Following a review, the Government decided to fund an interim satellite service while a more permanent long-term solution is found for continuation of TVNZ broadcasting to the Pacific.
TVNZ broadcasts are offered to the Cook Islands, Niue, Samoa and Tonga without charge, as commercial pricing would typically put the content beyond the reach of these countries.
Also from http://www.scoop.co.nz/stories/BU0509/S00183.htm

Press Release: Television New Zealand
14 September 2005 Press Release
ONE News and Pacific programming assured for South Pacific Broadcasters
TVNZ has welcomed the Government's decision to pick up the tab for an expanded satellite service to South Pacific television broadcasters.
It will ensure the daily satellite transmission of ONE News, and weekly transmission of TV ONE's specialist Pacific programme Tagata Pasifika to Samoa, Niue, Tonga and the Cook Islands. The service will begin on Friday.
TVNZ says part of the funding announced by the Government is to provide research to determine the most appropriate satellite transponder for the expanded service, and to make available those New Zealand-made programmes that are of special interest to Pacific nations.
TVNZ has had a longstanding relationship with Pacific broadcasters, and helped establish television stations in the Cook Islands, Samoa, Fiji and other island groups.
Prior to the Government's decision, TVNZ had paid for a daily satellite feed of ONE News, which last year established a new Pacific unit to give greater depth to News coverage of the region. Pacific broadcasters said they wanted TV ONE news in preference to Australian bulletins.
The announcement of New Zealand Government support ensures not only a continuation of the service but an expansion of programming which will be particularly welcomed by the smaller South Pacific broadcasters.
August 2005
Topfield Advertisements in Wares Mag
Wares magazine is the sole independent communication medium between New Zealand's retailers of consumer electronics and appliances and their supplier base. Wares is the medium most relied on by this industry. The August issue featured the TF5000PVR and the TF4000Fi receivers in the Topfield range.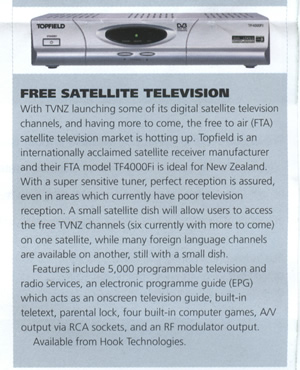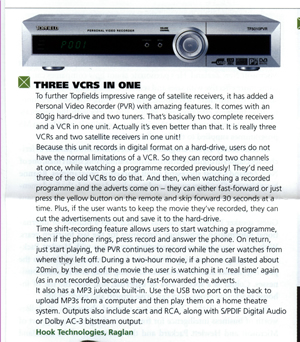 http://www.wares.co.nz/
June 2005
NASA TV
From: http://www.satdirectory.com/--nasa.html
Free-to-air satellite television offers a detailed insight into spaceflight activities including the shuttle missions via NASA Television. NASA TV is an educational media outlet that provides NASA related programing 24 hours per day. During Space Shuttle missions, NASA TV is compelling viewing. For the weeks before the launch the channel broadcasts daily updates, briefings and press conferences of pre-launch activities. However the real action begins the day of the Shuttle blast-off.
Around six hours before the launch the continuous mission coverage commences which extends right through until the mission ends some hours after the Shuttle landing. Viewers are treated to spectacular live video and audio of the controllers and astronauts which when combined with the downloadable resources at www.nasa.gov offers a front row seat to all stages of the space flight.
A schedule of major events in the mission timeline is available from the NASA website. Downloading the mission press-kit will enable you to plan your viewing to ensure you don't miss highlights such as launch, space station docking and landing.
NASA TV is available from Intelsat 701on a 2.4m C band dish.
Update 2006 - Nasa TV is now available via TVNZ broadcasts on Optus B1 with a 65cm dish
June 2005
Topfield TF5010PVR reviewed in Tone Mag
Check out Tone #37 June 2005 for a review on the Topfield TF5010PVR in New Zealand or visit http://www.tone.co.nz/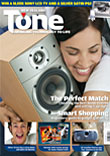 May 2005
CNET reviews TF5000PVRt
While digital terrestrial is not yet running in New Zealand (tests are being conducted in Auckland City) this review of the TF5000PVRt also shows what its sister receiver, the TF5000PVR satellite receiver, is capable of. Both receivers come with the same features.
cnet.com.au hometheatre digital review
May 2005
TVNZ Preparing for Digital Satellite TV
There have been technical changes made to TVNZ's use of its Optus B1 satellite transponder.
This satellite is now being uplinked from TVNZ's Avalon premises instead of from TelstraClear's facilities at Seaview, Wellington, a change made in the early hours of Friday morning, last.
This means the uplink and the transport stream is now generated and managed entirely by TVNZ within its own premises.
Engineers didn't expect any disruption to viewing but some receivers (STBs) may not have automatically picked up the change and may need a rescan. (Please visit our downloads page for a step by step guide to rescaning these channels)
TVNZ says the move is part of its development of Digital Free-To-Air services. Other preliminary work underway includes discussions with other broadcasters willing to make their channels available from the same satellite. These talks are on going with no date yet agreed for new services.
TVNZ is consulting widely with relevant interested parties in the industry to agree a DVB-S receiver specification. This will ensure New Zealand viewers receive optimum digital Free-To-Air reception including enhanced digital services.
April 2005
Topfield's TF4000Fe & TF5500PVR have won the WHAT satellite test

United Kingdom's prestigious and popular magazine "WHAT satellite AND DIGITAL TV" chose the TF4000Fe as a Best Budget Satellite Receiver. It introduces TF4000Fe as the best balance of price and performance. Moreover, TF5500PVR has achieved Best Satellite Media Server. The TF4000Fi and the TF5010PVR are the New Zealand version of these receivers.

For more detailed information, please refer to the article here...
April 2005
There is an NDS CAM!

For a long time now home theatre junkies have wanted a better satellite receiver than the Pace and Motorola models SKY NZ offers. They are happy to keep paying their monthly fee for their sports and movies, they just want to own their PVR, have faster channel changing times, have optical digital audio out, RGB output and S-Video as standard and any other features that many FTA receivers come with.

And so for all this time they have dreamed that somewhere out there there is a CAM that will accept SKY NZ smart cards. But there isn't...... so far.

You see SKY NZ uses an encryption called NDS. And until recently there hasn't been a CAM for NDS. Now there is! But wait there is a catch.

The NDS CAM is manufactured in Europe and is used for some of the broadcasts over Europe. It was specifically designed for hotel situations that had SMATV systems built in, not for the average home user. So even if you manage to go to all the trouble of getting one of these CAMs, which would be very unlikely unless you own a hotel or at least a SMATV system, as you need to provide the serial number of the system you have, you then still have to get the broadcaster, in this case SKY NZ, to activate the card by matching it to the NDS CAM. And I betcha SKY NZ won't do that for you. Why?

SKY NZ rents their decoders, they provide a good backup and replacement service for these decoders and they like the call back service (telephone line connection) on their receivers. Besides imagine if everyone had a different decoder, how would the help service people know what button you should press? So they won't help you get an NDS CAM.

And besides that? No one seems to know yet whether that NDS CAM from Europe will even support the SKY NZ smart card version.

Sad news. But there might be another way...... http://www.ucascity.com/forums/
March 2005
Comparison test of twin-tuner HDD recorders

One of Finland's most popular magazines "HIFI" has undertaken a comparison test among the six most popular twin-tuner PVR's in Finland. Test competitors were: JVC, Pioneer, Procaster, Handan, Medion and Topfield. The very elaborately test resulted in Topfield's TF5100 PVR as a test winner.

For more detailed information, please refer to the article here...
You may need to use google to translate it.
March 2005
TVNZ prepares satellite service

From http://www.stuff.co.nz/stuff/0,2106,3208447a28,00.html

TVNZ says it is holding discussions with other free-to-air broadcasters about setting up a satellite service that would broadcast digital TV channels to households. Head of public affairs Avon Adams says there would be no subscription fees or contracts for viewers to sign, but consumers would have to buy their own "low cost" set-top box from a retailer.
TVNZ has been trialling digital TV and set-top boxes for several months in conjunction with TV3 owner CanWest and Prime TV in several urban and rural locations near Auckland. They have been using a transmission mast in the Waitakere ranges owned by BCL to send out the digital TV signals.
Ms Adams says if the satellite-based initiative goes ahead, other free-to-air broadcasters could be invited to share the system. "The broadcasters would co-operate on technology and other matters, but would compete, as at present, with their services."
Ms Adams says the broadcasters' decision to advance discussions over the launch of a satellite-based transmission service shouldn't be viewed as a "vote of no confidence" in land-based digital terrestrial transmission (DTT). "The digital broadcasting landscape for New Zealand will require more than one distribution system and broadcasters, through the Commercial Broadcasters Association, continue to work positively with the Government and ministers to resolve issues around DTT."
TVNZ has appointed Eric Kearley to the role of digital programme manager, reporting directly to TVNZ head of programming Stephen Smith. He will study the feasibility of TVNZ using digital TV to deliver new content and services. He spent nine years at MTV, most recently as a vice-president of MTV Networks Europe with responsibility for the MTV, VH1 and Nickelodeon brands in Europe and Africa. He starts work at TVNZ next month.
December 2004
Fiji TV is here in New Zealand
Fiji TV is now up and running with about 8 FTA channels currently. However they only plan on keeping 1 of those FTA - Fiji TV1. The channels are broadcast on Intelsat 701 and can be received in New Zealand on a dish as small as 1.8m. After testing is finished a subscription will be available for the encrypted channels. Fiji TV plans to make these channels available to the islands of the Pacific, specifically mentioning Tonga and the Cook Islands but that may well include New Zealand.
December 2004
NASA Updates TV Coverage of Christmas Delivery to Space Station

From http://www.spaceref.com/news/viewpr.html?pid=15770

NASA TV (on Intelsat 701) will broadcast live the arrival of the next Russian Progress cargo spacecraft at the International Space Station. The Progress is scheduled to dock at about 6:31 p.m. EST, Dec. 25. NASA TV coverage begins at 5:30 p.m. EST.
The Progress is carrying approximately 5,000 pounds of cargo for Expedition 10 Commander Leroy Chiao and Flight Engineer Salizhan Sharipov. This is the 16th Progress to dock with the Station. The supplies include food, fuel, spare equipment and Christmas gifts. Chiao and Sharipov have been aboard the Station since mid-October.
The NASA Johnson Space Center Newsroom will be open on Christmas during the live coverage of the Progress arrival. The Progress is scheduled to launch from the Baikonur Cosmodrome, Kazakhstan, at 5:19 p.m. EST tomorrow. There will be no television coverage of the launch, but a status report will be issued once the Progress reaches orbit.
November 2004
TVNZ's plans for satellite Free to Air channels
Selected news from ''The Independent''

The TVNZ board has approved plans for a satellite operation delivering free-to-air television channels and radio to the whole of New Zealand. It is understood the satellite platform will carry TVNZ's own channels, Tv1 and Tv2, as well as other key free-to-air channels, including rivals Tv3 and Prime.
TVNZ has booked two transponders on the new Optus satellite being launched in 2006. However it already has enough capacity on the Optus B1 satellite. the same satellite currently used by Sky, to launch the service any time it chooses.
The project has been shrouded by a heavy veil of secrecy under the leadership of former TVNZ current affairs producer William Earl, who is managing the project from TVNZ's Wellington offices.
The Independent discovered TVNZ has registered several trademarks - FREEVIEWTV FREESATTV, FREESAT and FREEVIEW - all names identical to, or similar to, the free free-to-air digital platform established in the UK. The free channels, along with some radio stations, can be received by anyone with a small Sky TV-style dish and a free to air satellite receiver.
It is believed TVNZ has been examining different business models for additional channels on the satellite platform. Among them is a 24-hour news channel. The move would appear to end arguments about whether the future of New Zealand Digital Television should be from satellite or transmitted terrestrially. But getting business models to stack up economically will be a major challenge, especially for the first few years of the platform when audience
numbers will be limited.
At the end of last year, TVNZ's transmission arm BCL Ltd split from the state broadcaster to become a standalone state-owned enterprise. Another option was to use the Sky digital satellite platform. However, the government is believed to be squeamish about the "Murdochisation" of New Zealand television transmission. It is likely to endorse the New Zealand controlled option.
An announcement is expected soon.
September 2004
TVNZ plans satellite television network

From The Independent
TVNZ is expected to soon announce plans for a satellite operation delivering free-to-air television channels and radio to the whole of New Zealand. The system would deliver television signals to homes free of charge, so long as householders have bought an inexpensive set-top box. TVNZ is believed to be modeling its service on the free view system in the UK.

TVNZ has registered the following trademarks: FREEVIEWTV, FREESATTV, FREESAT and FREEVIEW. With the British Freeview, viewers can access around 50 channels and several radio stations free of charge once they have purchased a $150 set-top box.

Last week, TVNZ acquired a half transponder on the Optus B1 satellite, giving it sufficient capacity to launch a multi-channel digital operation to the entire country. It claimed it didn't know what it planned to use the extra satellite for, leaving market-watchers wondering why the state broadcaster would commit to a multi-million dollar deal without some plan for its use.

TVNZ is believed to have booked two transponders on the new Optus satellite being launched in 2006. This would give the broadcaster capacity to deliver between 15 and 20 channels.

It is expected TVNZ's competitors will be invited to transmit on the platform alongside TVNZ's two channels. TVNZ's business model is also believed to have investigated the creation of new channels for the platform.

But its announcement last week that it had acquired a half transponder on the current Optus satellite means it can launch the new free digital TV platform anytime, without waiting for the new Optus satellites to be launched.

TVNZ's moves come hard on the heels of Broadcasting Minister, Steve Maharey's Review of Broadcasting in New Zealand, due at year's end. A key discussion will be whether New Zealand's future digital television signals should be transmitted via a terrestrial network or via satellite. One option is to use the Sky digital satellite platform. But industry insiders believe the government is squeamish about the 'Murdochisation' of the New Zealand media, alarmed that the Sky platform would deliver News Ltd total control.

The new platform would ensure the government has control over any future free-to-air television delivery. Insiders say the terrestrial option is expensive and a hangover from the early days of television technology when satellites weren't available.

An earlier plan by TVNZ to launch a satellite pay TV operation in partnership with TelstraClear, and in competition with Sky TV, collapsed in mid-2001 when TelstraClear withdrew from the partnership.
July 2004
Bigger choice in free satellite TV

From http://www.nzherald.co.nz/ by James Gardiner 31/7/04

Up to eight new free-to-air television channels could be available shortly.
TelstraClear has put up for sale its half of a transponder on the Optus B1 satellite, raising the prospect of digital television broadcasts from a range of small would-be broadcasters hoping to break into the television market.
Secret talks are already underway with a range of large and small broadcasters. An announcement of which company or companies are the successful bidders could come as early as next week.
State-owned Television New Zealand and transmission company BCL, along with private companies TV3 (CanWest) and Sky TV are all believed to be interested, along with smaller players such as Mai TV of Auckland, City TV in Wellington and the Christian channel Shine, which screens on Sky's satellite network.
The attraction for the smaller players is that many have struggled to get bandwidth on the crowded VHF and UHF frequencies.
But there are concerns that one of the big players, such as TVNZ, or Sky, might try to buy the lot to keep out competitors for viewers and advertisers.
Satellite television offers the opportunity to get national coverage to anyone willing to spend about $500 on a small satellite dish and a set-top box, which converts the digital signal to analogue for TV sets.
Industry observers reckon that within a decade analogue television broadcasts will disappear, ushering in an era of high-quality, interactive viewing.
Unlike pay television, the set-up cost to receive free-to-air satellite broadcasts is one-off.
Already Television New Zealand is using the other half of the same transponder on the satellite to broadcast TV1 and TV2 but only an estimated 6000 homes are equipped to receive the satellite signal other than through the Sky decoders. Industry sources say the sale could raise between $3 million and $4 million, or up to $500,000 for each channel.
There would be an ongoing cost for each broadcaster of several thousand dollars a year to get the broadcast up to the satellite because the only link is at TVNZ's Avalon studios in Lower Hutt.
TelstraClear took over ownership of the transponder when TelstraSaturn, a telecommunications and cable TV company, merged with the telco Clear.
Spokesman Mathew Bolland said it had decided to sell now because television broadcasting was not the company's core business.
The company was interested in getting the best price it could for a surplus asset, not which broadcaster should get access to the satellite.
All parties involved have been asked to sign confidentiality agreements.
City TV managing director Jim Cross, who plans to set up a cable channel in the Wellington region next year, said "we're interested and we're in negotiations".
March 2004
More Arabic channels.

The satellite Asiasat 3 now has 7 free to air Arabic channels available. This satellite requires a 2.4m C-Band dish to receive from. However reportedly, these same channels will soon become available on the satellite Optus B3, which is receiveable on a dish as small as 65cm. The same source reports that these channels will remain free to air and will soon expand to 10 channels. This will mean that these channels will be available to anyone who has a dish and receiver like those found here. Below are some links for the these Arabic channels.

Oman TV http://www.oman-tv.gov.om/
Qatar TV http://qtv.iscool.net/
Sudan TV http://www.sudantv.tv/
Syria Satellite http://www.rtv.gov.sy/
Libya TV http://www.ljbc.net/

March 28, 2004
Maori TV

The fabled, long awaited Maori TV finally arrived and launched. Available free to air on the satellite Optus B1, it is readily available to anyone who wants it. While many may not be able to understand the Maori language and others will not even be interested, the broadcast promises to show many Maori actors in English language programs. Perhaps the one most keenly awaited is 'The Billy T James Show', though many more are likely to be offered.
February 2004
Fiji TV for New Zealand?

Fiji Television plans to invest F$6 million in extending satellite coverage to the outer islands of the archipelago and to nearby countries, according to a report by Pacific Media Watch. Speaking at the Commonwealth Broadcasting Association (CBA) conference in Nadi, Fiji TV chief executive officer Ken Clark said the new service was expected to begin from July 1. The satellite transmission will beam the free-to-air channel Fiji One and six pay-TV channels. For the first time, Fiji's outer islands and other countries within the region will receive Fiji Television broadcasts. The pay-TV service will be increased to six or more channels, said Clark. The satellite broadcast will cover Tonga, Vanuatu, Kiribati and Niue and parts of New Zealand and Australia. However, Fiji TV expects some transmission problems, particularly during poor weather. "Using KU Band (satellite feed) there's always something called rain-fade' and while we expect to be 99.6 per cent efficient, during some periods of the year, the signal will disappear for a little while," Clark said.
December 2003
ABC gone??

It appears that ABC has gone permanently from Optus B1. It seems that rather then use the satellite link, ABC is now linked via a fibre optic cable. Unless problems are encountered, it would be unlikely that it will return to the vertical transponder that was allowing us here in NZ to view it.
October 2003
Now three satellites from one dish??
We have recently developed a means of mounting 3 LNBs on one 90cm dish. This enables you to receive C1, B1 and B3 with one dish. Full details here.
October 2003
Topfields New PVR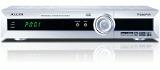 TF5000PVR. See here for full details.

September 2003
Two Satellites from one dish??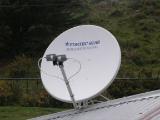 Receive from Optus C1 and B1 with one dish.
See here for full details.

May 2003
More FTA programs after June 2003?

ImpacTV have released more news on their website www.impactv.co.nz that indicates a lot more programming options on the new Optus C1 satellite launched in June, however it will be a short wait for the channels to come onto air.
BVN - Dutch TV

As of April 30th 2003 BVN-TV, the international TV service of the Dutch and Flemish public broadcasters, will broadcast to Asia, Australia and New Zealand. BVN-TV will be received free-to-air in many parts of Asia and Africa via the Thaicom 3-satellite, and in Australia and New Zealand via the Optus B3-satellite. BVN-TV is a cooperative venture of the Dutch Public Broadcasting System, Belgium's VRT and Radio Netherlands. BVN-TV allows Dutch speakers abroad to receive programmes from the Dutch and Flemish public broadcasters.

Internet - http://www.bvn.nl
NZ Govt looks ahead to FTA satellite services?

From the record of Executive Government - for the current Adminstration - "If significant viewer uptake of satellite reception on a free to air basis occurs, the present role of NZ on Air in subsidising remote area analogue transmission costs would need to be reviewed. Arguably, funding might be re-targeted towards broadening the range of content available on free to air satellite services".

read more here.. and here..

Fall in terrestrial aerial sales.

New Zealand sales for terrestrial aerials have surprised analysts by dropping more than 40% in the 12 months since TVNZ went to air on the satellite Optus B1, the drop coming faster than predicted. This decrease in terrestrial sales and hence viewing, may aid the pressure applied to other broadcasters (TV3, 4, Prime) to move to free to air (FTA) satellite broadcasts, thereby providing more FTA programs for viewers in poor terrestrial signal areas.
Satellite Broadcasting Reviewed

The two links below contain a digital television Cabinet paper from December 2002 wherein the Government signals a digital future for public television.

here.. and here..


More Satellites to cover NZ?

The new satellite Optus C1 is not the only new satellite reported to be launching in the New Zealand area. The launch of Optus C2 is reported to follow and will likely have beams to provide coverage to NZ. No definite time frame for launch as yet.
Impac TV? More free channels?

It looks like New Zealand will soon have more free to air channels along with another paytv provider. The possibility is that 40 or more new channels, some of which will be FTA, will be available. This provider also plans to make available to other program providers the opportunity for them to use their uplink. Meaning we may see more of our smaller programs up on the satellite. e.g. FTN or some of the university channels.

For more information keep your eye on -
www.impactv.co.nz or http://anthonydunnett.tripod.com/
A New Satellite to be launched

A new satellite Optus C1 is due to be launched this year (2003). It is planned that this satellite will take the position Optus B3 is currently in and will provide lots more transponders, therefore making more options for FTA channels.
October 2003
Funding agency reviews subsidy of TV transmitters

From nzherald

New Zealand On Air is reviewing its $1 million-plus funding for transmission coverage so 14,000 homes can receive TV One and TV2.

The households are in black spots in Northland, north Taranaki, coastal Wairarapa, Milford Sound, Murchison, the West Coast and Banks Peninsula.

NZ On Air wants to revise the $1.18 million subsidy it pays TVNZ now that TV One and TV2 are available on Sky Television's satellite platform.

TV One and TV2 are not encrypted, so homes with a satellite dish and decoder can receive the digital signals without having to pay a Sky subscription.

However, households without Sky would need to buy the hardware - a satellite dish and set-top box - to receive the digital signals.

"On a technical level, we are continuing to pay a subsidy for maintaining the analogue transmitters in those remote areas needlessly," NZ On Air chief executive Jo Tyndall said.

The review would assess the life span and viability of the analogue system.

The $1.18 million could pay for 250 hours of a magazine programme or studio-based children's show, Ms Tyndall said. NZ On Air would find out how many of the homes affected already had Sky.

There was no suggestion NZ On Air would pay for a set-top box and a satellite dish for homes that do not have them, but TVNZ believed the subsidy should continue despite its deal with Sky.

"That is a pay service and the whole purpose of this [subsidy] is to provide free-to-air access to those channels," TVNZ spokesman Glen Sowry said.

He said TVNZ and NZ On Air had many times discussed the best way to achieve universal coverage.

NZ On Air hopes to report to the Government by the end of the year (2002) and have a decision before next June.
February 2003
MAORI TV GETS ADDITIONAL FUNDING

The Maori Television Service [MTS] will receive increased funding and will
use a platform combining UHF and satellite transmission under decisions
announced by Finance Minister Michael Cullen and Maori Affairs Minister
Parekura Horomia on January 29.

Cullen said the funding increase of 7.075 million dollars a year would give MTS an annual operating budget of 12.98 million dollars. Parekura Horomia said MTS would provide an indigenous broadcasting service that was unique and would significantly enrich the cultural fabric of New Zealand.

The advantages of the UHF (Broadcast Communications Ltd, BCL) platform are that MTS will own and control its transmission facilities and will be able to move to a digital platform in the future.

It will also mean that MTS is using the frequencies reserved for Maori language broadcasting since 1989. "Initially the transmission will provide coverage for 75 per cent of the general population and 70 per cent of Maori. The second stage will expand coverage to 86 per cent of the Maori population. "It is important to note that this is a greater level of coverage than any other New Zealand television channel has achieved on its launch..." [Horomia said]